Thursday, Oct 31st,
(Halloween)
10AM to 5PM
The Exhibition will include both Linux vendors and Open Source .org's. The Exhibition will provide the opportunity to talk directly with the major Linux vendors for hardware, software and services. The Open Source .org booths will provide an opportunity to talk directly with users and in some cases with the actual developers of the software products.
Admission is $25. Attendees can register and pay for registration via credit card. Look in the Travel & Lodging section for special offers available with your Expo Pass at area restaurants.
As this year's Exhibition will be on Halloween, we are asking attendees to come dressed appropriately!
Here is a list of vendors that have signed up for the Exhibits:
Gold Sponsors

Silver Sponsors

Stautzenberger College is a two-year, private school with a current student body of 650 students, specializing in career education. The Information Technology division has been providing authorized IT education for over a decade, recently adding Linux to its venue. Stautzenberger is a CTEC for Microsoft, a Novell Authorized Education Center, A Cisco networking Academy as well as a CompTIA Education Partner, offering A+ and Net+ Certification. In addition to being an authorized testing center through VUE, students also enjoy the benefit of a technical resource center using Test Out software for self-evaluation and testing preparation for certification.

The Open Source Group is a Linux and Open Source technology-consulting company that specializes in custom development and implementation of Linux and Open Source solutions for business. They have developed, along with their partner SAS Data Systems, a highly sophisticated financial services solution for credit unions and small banks. The Open Source Group has also partnered with CommNav to implement a feature rich portal for various industries. Finally, The Open Source Group and its partner, e-business Interface, Inc. are implementing Linux based solutions in the legal market.

Bronze Sponsor

WTA Consulting, a division of Warnock, Tanner & Associates, Inc., transforms technology into solutions that drive successful businesses. Our services help companies increase business and systems efficiencies, expand supplier and customer markets, and retain customers through better service. Through delivery of a comprehensive mix of technical expertise, industry knowledge and applied innovation, we provide rapid implementation of complete integrated solutions that harness the Internet for business innovation.

Exhibitors

Amplex provides dedicated high speed Internet access, Web Site hosting, and Colocation services. Amplex has available many methods to provide dedicated access including full and fractional T1's, Frame-Relay, SDSL, and Wireless solutions.

Put VANTAGE Console Manager on a Linux host and you've created one of the most cost effective system management tools available today. VANTAGE integrates console security, logging, event detection, automation and remote access features into a solution that can safely scale across the largest enterprises either standalone or in conjunction with other management applications. VANTAGE Console Manager, when a terminal server alone just isn't enough.

Debian is a free operating system (OS) for your computer. An operating system is the set of basic programs and utilities that make your computer run. Debian uses the Linux kernel (the core of an operating system), but most of the basic OS tools come from the GNU project; hence the name GNU/Linux.

DisklessWorkstations.Com provides hardware solutions and services for LTSP Linux Diskless Workstations.

Equinox develops and markets high-performance, reliable and cost-effective serial connectivity products. The Equinox SuperSerial product line provides serial connectivity solutions for a wide variety of applications with products including; Multiport Serial Adapters, ESP Serial Hubs, Console Port Servers, ELS-16II Terminal Servers and Multi-modem Adapters. For more information about Equinox products, please visit www.equinox.com.

Four J's provides tools for the development of high-volume, mission-critical business applications. Four J's Business Development Suite (BDS) enables rapid and predictable development and deployment of business logic across a variety of server, database, and end-user platforms. Applications powered by Four J's support traditional Windows clients, are fully Internet enabled for eCommerce and Web Services, and support HTML, Java, and WAP client devices for mobile access. With two million plus users and five thousand developers worldwide, Four J's is installed across Fortune 500® enterprises as well as medium sized businesses and local, state, federal and educational agencies.

Koha is the world's first free Open Source Library System. Made in New Zealand by the Horowhenua Library Trust and Katipo Communications Ltd, the Koha system is a full catalogue, opac, circulation, member management and acquisitions package.

Koha is used by public libraries, private collectors, university faculties, not for profit organisations, churches, schools and corporates.

Laser Line, Inc. is a 14 year old company specializing in the remanufacturing on laser cartridges for all printers, fax machines and copiers. We can offer the client remanufactured, outside recycled, OEM or Reflexion (OEP) cartridges along with Ink Jet cartridges for office or home use. All deliveries are made by our Customer Service Reps at no charge within a 75 mile radius of our plant in Northwood Ohio. Laser Line is factory authorized for service on HP, Canon, Lexmark, Xerox and Minolta printers.

We will be displaying laser cartridges and services we provide.

LTS Networks is a Montreal-based company specializing in LTSP (Linux Terminal Server Project) networks. It's founders observed that LTSP technologies were top-tier innovations that would serve many markets better than existing solutions. However LTSP, as an Open Source project, had few proponents in the corporate arena who were actively promoting it commercially. LTS Networks saw this as an opportunity to bring more GNU/Linux and Open Source awareness to the marketplace and specifically to offer LTSP solutions through commercial channels.

LTS Networks' current offerings are aimed at educational and institutional markets with commercial and business products being planned for the future. There are several server/thin client solutions available featuring all the benefits of LTSP at low cost as well as professional services and support products.

LTS Networks is a strong proponent of the philosophy of Free Software and firmly believes it must make significant contributions to the Open Source community. As LTS Networks grows so will its support of LTSP and other open source projects.

Linux Terminal Service Project (LTSP) is an open source project focused on delivering Linux Thin Clients and the administration software required to deploy this technology.

The MacCafé is Northwest Ohio's Apple Macintosh Only reseller, providing Mac customers with a non-virtual shopping environment. Enthusiasts of Macintosh can see, touch, use and get expert advice on the entire Mac line-up in our showroom.

Strategic Business Development

Since 1995 Strategic Business Development has been providing consulting and implementation services on growth strategy, marketing, and business development initiatives, in both the public and private organizations, primarily in the technology and services sector. Specializing in regional and global marketing and business development, SBD also provides event marketing, management coaching, assessments, and primary market research.

Stop by the booth and ask your most pressing marketing question!

The Linux Box Corporation is a Linux consulting,support and training company, focused on knowledge transfer and high quality customer service.

The Linux Box provides specialized software-development services, in addition to support and training offering, to regional and national customers.

TALUG is an non-profit organization of computer enthusiasts from the Toledo, OH area interested in GNU/Linux.

Since 1990 Unique Systems has provided cost effective flexible, scalable mission critical accounting software. This suite, ThinSoft, runs on Linux and UNIX operating systems, the Informix database, and Four J's Virtual Machine. The suite is still "unique" today, as it has the ability to be customized and upgraded as the standard modules are improved.

Unique Systems also has hardware products like ThinStations and ThinNIC's and provides Open Source services and support, besides being the main organizers of the Think-Linux event. Join us at our booth to look at Open Source, Free Software, and Open hardware like the ThinStation and our ThinSoft suite. Plus, enjoy free apple cider, cost effective and enjoyable at the same time! The cider will be available with or without... Enjoy!
Think-Linux 2002 Booth Layout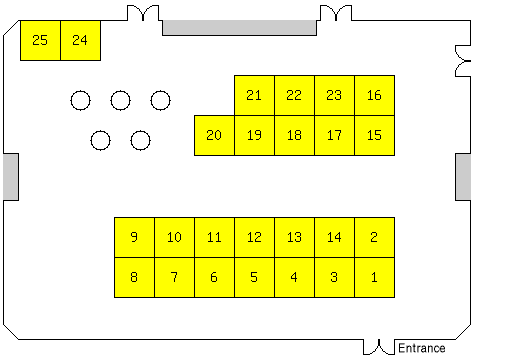 1. Hewlett Packard
2. Hewlett Packard
3. Open Source Group
4. Open Source Group
5. Mac Cafe
6. Equinox
7. The Linux Box
8. WTA Consulting
9. Four J's Development Tools
10. LTS Networks
11. Unique Systems, Inc.
12. LTSP
13. Diskless Workstations
14. Debian.org
15. Stautzenberger College
16. Stautzenberger College
17. Strategic Business Development
18. ASP Technologies Inc
19. Ohio Online
20. Laser Line Inc
21. Amplex Internet
22. Koha Library Project
23. Toledo Area Linux Users Group
24. IBM
25. IBM

---
Presented by:




Unique Systems, Inc.

AND

SBD: Strategic Business Development